Holiday Sweepstakes and Rent Control
Date posted
October 14, 2019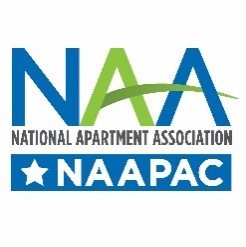 As your PAC Ambassador for Region 6/AANM I want you to know that the National Apartment Association Political Action Committee (NAAPAC) is ending the year with an exciting opportunity!
We are proud to announce the NAAPAC Holiday Sweepstakes! WIN a $2,000 gift card to Tiffany & Co. and add this amazing gift to your holiday celebration! Tiffany & Co. is a world renown luxury jeweler cherished for its diamond and sterling silver jewelry.
With a $25 donation you will have a chance win! All contributions count towards your affiliate's 2019 affiliate share goal and all proceeds benefit NAAPAC. The winner will be announced November 8th at the Assembly of Delegates!
Please see the attached flier to Enter

Why is supporting NAAPAC important to you and your business? In Congress, the multi-family industry faces numerous legislative and regulatory issues that directly impact our business, NAAPAC is one of our most responsive tools.
This year after enacting statewide rent control in New York, Oregon and California, activists are planning to hit every community in America! Congresswoman Alexandria Ocasio-Cortez (D-NY) is preparing federal legislation that would enact nationwide rent caps and "just cause" eviction. At a time when the country needs to build 4.6 million apartment homes by 2030, the last thing we need is federal price controls.
Support NAAPAC today to help us elect lawmakers who understand that rent control doesn't work and who know that the answer to the affordability crisis is to build more apartment homes. Your support can help make sure that NAAPAC has the resources it needs to fight misguided legislation and help elect pro-apartment legislators.
If you would like more information or if you have questions on NAAPAC, please contact Jim Wilson at jwilson@naahq.org or Sheryl Eastman at seastman@naahq.org.
Good luck and thank you for your consideration!
To learn more on rent control issues at the federal level:
Bobby C. Griffith
NAAPAC Ambassador
President, Apartment Association of NM
CFO, JL Gray